Supporting technical training in extractive industries in Guyana
This project supports the development of a pilot case in Guyana for technical training and work place in the extractive industry as well as to determine the feasibility (institutional, economic, financial and commercial) for regional collaboration on vocational training and work placement in the extractive industries in the Caribbean.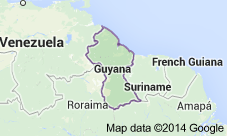 Contact at IDB:
malaikac@iadb.org
IDB Financing:
US$ 440,000
How can you benefit from this operation?
If you are interested in accessing the finance and technical assistance opportunities available under this program, please click on the links below.