Support to entrepreneurial development in Mexico
Global credit loan to Nacional Financiera (NAFIN), a public development bank under the control of the Government of Mexico (GOM). The loan will be used to continue the support to SMEs suppliers of PEMEX and of the Mexican SMEs more broadly, as well as supplement the financing of the Clean Technology Fund (CTF) in the context of the Financing of Renewable Energy (ME -L1109).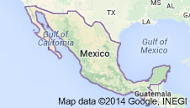 Executor:
ME-NAFIN - Nacional Financiera SNC
Contact at IDB:
lriquelme@iadb.org
IDB Financing:
US$ 100,000,000
How can you benefit from this operation?
If you are interested in accessing the finance and technical assistance opportunities available under this program, please click on the links below.