Support for the development of a national plan for logistics parks
The Project will identify and prioritize the country's key projects and initiatives to improve logistic and trade performance, generating an information system that supports the decision-making process, registers the bottlenecks that compromise logistic performance, and identifies the requirements and specific projects that improve infrastructure and transport services in the country.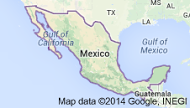 Contact at IDB:
pablogu@iadb.org
IDB Financing:
US$ 750,000
How can you benefit from this operation?
If you are interested in accessing the finance and technical assistance opportunities available under this program, please click on the links below.