National system of youth and children's orchestras of Venezuela
In 2012 the Inter-American Development Bank and the Music Foundation Simon Bolivar (Bolivar FUNDAMUSICAL) launched the first experimental impact assessment of the effects of the system. This assessment is intended to measure the causal effects of the participation of children and young people in terms of cognitive and emotional skills. The new technical cooperation has two objectives. First, it provides finance the follow-up survey, necessary to measure the impact of a year of participation in the system, and second, it proposes to finance the completion of the measurement package, and its extension to young people between 12 and 24 years old. This package represents a public good that can be used inside and outside the Bank to measure the impact of programs for youth at risk.The CT would have three main products: 1) tracking poll; 2) impact study; and 3) battery of youth.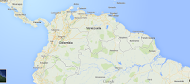 Contact at IDB:
xiomaraa@iadb.org
IDB Financing:
US$ 990,000
How can you benefit from this operation?
If you are interested in accessing the finance and technical assistance opportunities available under this program, please click on the links below.