Food safety and income security in Surinamese small scale farming
The overall goal of the project is to implement a comprehensive, multi-pronged methodology for the development of organic agro-entrepreneurship and sustainable rural development in Saramacca. The specific objective of the project is to increase farm production and farm income in order to alleviate poverty through the increased output of fresh organic vegetables. This is being accomplished by: facilitating access to new knowledge, technology, and business advice; promoting access to financial services; improving the efficiency of existing small farms; and supporting the creation of new agro-enterprises.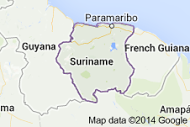 Executor:
The Caribbean Institute
Contact at IDB:
vashtied@iadb.org
IDB Financing:
US$ 155.000
How can you benefit from this operation?
If you are interested in accessing the finance and technical assistance opportunities available under this program, please click on the links below.