Marketers are no strangers to storytelling. Using data to craft compelling stories that connect the brand to its customers is at the core of what they do. And today's customers are more empowered than ever to take control over their data to ensure that privacy is an imperative, not an aspiration. According to new research from Boston Consulting Group and Google, while two-thirds of consumers want relevant ads, nearly half of them are uncomfortable sharing their data for personalization.
So it's not a matter of whether your business will shift to a privacy-first approach; the only question is when. Gartner predicts that by next year, 65% of the world's population will have personal data that's covered by privacy laws, which is up from just 10% in 2020. And yet, not all marketers have plans in place that account for those regulations.
In the swirl of building and launching digital campaigns and keeping up with evolving measurement solutions, it's easy to be confused and swayed by common misconceptions. Here, I'll take a closer look at three of the most pervasive measurement misconceptions and explain how you can address them to build a privacy-first future for your business.
3 common measurement myths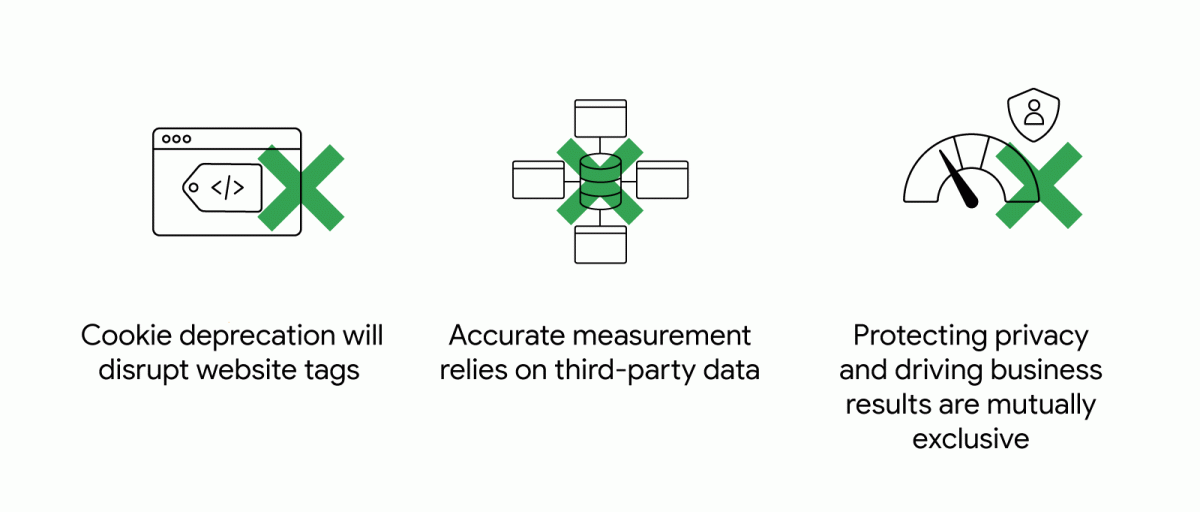 Myth No. 1: Cookie deprecation will disrupt website tags
Marketers have long relied on cookies and website tags to detect sitewide activity and conversions. But as third-party cookies are phased out, how can you measure, let alone optimize, your campaigns?
An important distinction to make is that cookies and tags are interrelated, but they're not interchangeable. Tags are pieces of code placed across your website that enable you to measure visitor interactions and marketing performance. Tags are used to set cookies, which live on a visitor's device and store browsing information. Tags can also be used to set first- or third-party cookies on your domain.
As third-party cookies and other identifiers are deprecated, accurate measurement hinges on a robust tagging infrastructure that is designed for first-party cookies and can interact with new attribution capabilities provided by browsers. We recommend adopting a tagging solution that's easy to use and durable enough to evolve with industry changes. A solution, such as the global site tag (gtag.js) or Google Tag Manager and its integrations, can provide accurate measurement, have positive downstream effects, and improve conversion modeling and bidding.
Myth No. 2: Accurate measurement relies on third-party data
There's no denying the impact that third-party cookies have had on advertising. They've been foundational to improving user experience and relevant ads, and to providing marketers with useful information about customer activity across websites. But third-party cookies also make it difficult for people to control how their data is collected and used. And as consumers' expectations for privacy rise, the costs of cookies increasingly outweigh their benefits.
This raises another common misconception about moving away from third-party cookies: that doing so will leave you with inaccurate data. This isn't the case as long as marketers are willing to look to other data sources instead. That's where first-party data comes in.
Investing in a first-party data strategy allows companies of all sizes to satisfy customers' privacy preferences while also gaining more helpful insights. How exactly? By creating a meaningful two-way value exchange between your brand and customers so that you offer curated recommendations, deals, or other special offerings in exchange for collecting customer data across your website, app, and offline channels. A strong example of this is how PepsiCo improved its ROI by 3X and increased media efficiency by prioritizing first-party data as a core global marketing principle and inviting customers to join its loyalty program for custom offers.
With the right tools and permissions in place, first-party data can also deliver actionable insights that are unique to your business and customer interactions. It can also inform other privacy-safe solutions that further improve the accuracy of your measurement. For instance, implementing a solution like enhanced conversions for the web can unlock additional conversion attribution data by matching hashed user-provided data from your website with signed-in Google accounts. The result is a more comprehensive view of the customer journey.
Myth No. 3: Protecting privacy and driving business results are mutually exclusive
Lastly, as the industry moves away from individual identifiers and toward privacy-first solutions, some advertisers fear they'll begin seeing measurement gaps that disrupt their reporting and hurt downstream optimization. While losing some observable data is inevitable, it's important to recognize that there are machine learning–driven models available that both preserve measurement and deliver performance.
Machine learning works by analyzing data to identify trends, correlations, and other insights that may otherwise be missed, through human error or otherwise. In digital advertising, privacy-safe machine-learning techniques work to enhance your campaign reporting and provide you with a more accurate view of the customer journey.
One popular application is conversion modeling, which assigns connections between ad interactions and conversions that would otherwise be unobservable, while also preserving the privacy of individual users. By leaning on this type of solution, you can enhance your measurement to better assess the true impact of your media in a privacy-safe way. This, in turn, will enable better optimization and return on investment.
The journey into a future without third-party cookies may seem daunting, but it doesn't have to be. Set these marketing myths aside, and commit to building a strong measurement foundation now so you're ready for what comes next.
While ConnectAmericas strives to make the information published from third parties authors as timely and accurate as possible, the site makes no claims, promises, or guarantees about the accuracy, completeness, or adequacy of the contents and expressly disclaims liability for errors and omissions in the contents of these publications. No warranty of any kind, implied, expressed, or statutory, including but not limited to the warranties of non-infringement of third party rights, title, merchantability, fitness for a particular purpose or freedom from computer virus, is given concerning the contents of this website from third parties or its links to other Internet resources.
Reference in this site to any specific commercial product, process, or service, or the use of any trade, firm or corporation name is for the information and convenience of the public, and does not constitute endorsement, recommendation, or favoring by ConnectAmericas.