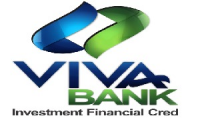 Viva Bank - Investment Financial Cred
Brazil
10 employees
Established in 2018
Company description
See translation
---
Viva Bank - Abriendo camino para su éxito. Su Banco de Crédito Innovador, Confiable y Simples. Viva Bank forma parte de la Asociación de Crédito al Emprendedor Vivacred, que tiene por objetivo principal, promover el desarrollo económico y social, orientado a la concesión de crédito, ofreciendo productos financieros de manera ágil y sin burocracia, operando con tasas competitivas, adecuado al tamaño de las empresas atendidas. El foco principal del Viva Bank será fomentar el desarrollo a micro y pequeñas empresas ofreciendo líneas de crédito diferenciadas, según la destinación de los recursos, perfil socioeconómico y necesidad de la clientela. Los créditos se concederán para capital de trabajo o capital fijo. La competencia técnica y la experiencia acumulada del equipo es uno de los principales factores de diferenciación de Viva Bank. El perfil de nuestro personal se refleja en el dinamismo, la capacidad de innovación y la competencia técnica. Viva Bank tiene una estructura organizacional simplificada para facilitar la integración en los procesos decisorios, con el objetivo de proporcionar a los clientes las mejores soluciones, siempre incentivando el emprendedorismo y la proactividad de nuestros empleados, asegurado por la ética e integridad de nuestra corporación. O Viva Bank possui em seu portfólio produtos e serviços sob medida para as diferentes estratégias e necessidades de cada empresa atendida. - Créditos a través de Líneas de Financiación. - Anticipación de Facturas. - Financiación de Proyectos Innovadores. - Emisión de Instrumentos financieros. - Seguros. - Custodia de Minerales (Facetados) y Metales (Lingotes). - Entre otros.
Sector / Industry
---
Products and Services
Commercial information
---
Main customers:
Micro Empresas, Pequeñas Empresas
Badges
These badges certify that certain information declared by a company has been verified, so it can increase the reliability and visibility of its profile.
What does this badge mean?
ConnectAmericas has verified this company is legally constituted and the people linked to this enterprise are able to do businesses.
People in this company (1)
---
Contact this company through Start-Up Nation Central
Please fill the contact form below and you will be reached via email. Please note that messages must be in English