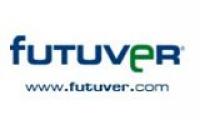 FUTUVER
Spain
76 employees
Established in 1997
Company description
---
FUTUVER es una Consultora Tecnológica, fundada en el año 1997 que lleva desarrollando su actividad en mercados nacionales e internacionales. El Grupo Futuver es una compañía que integra metodologías y sistemas de información para desarrollar proyectos en materia de Modernización Administrativa y Gestión Sin Papeles. Nuestra Especialización: Tramitación Electrónica de Expedientes y Modernización de Instituciones y Organizaciones. Hemos realizado diversos proyectos que nos han permitido obtener indicadores en términos de materia económica, eficiencia administrativa, y medio ambiente que impactan directamente en beneficio de nuestros clientes y en la sociedad en general. FUTUVER ha llevadi a cabo la Modernización de uno de los Registros Públicos de la Propiedad más grandes y complejos del mundo, que atiende a 22 millones de habitantes, el de Distrito Federal en México.
Sector / Industry
---
Products and Services
Commercial information
---
Product and services:
SERVICIOS:Modernización InstitucionalRegistros de la Propiedad/Registros Mercantiles/Registros Bienes Muebles/Otros Registros Jurídicos/ CatastroTramitación ElectrónicaConsultoría IntegralSoluciones Tecnológicas. PRODUCTOS: FUTUREG, IDINET
Presence:
Spain, Mexico, Panama
Main customers:
Registros Públicos de México, Registro Público de Panamá, Universidad de Panamá, Cosentino, ThyssenKrupp, ADIF, Metro Madrid, Empresas privadas, Instituciones
Certifications:
CMMI Nivel 5; Microsoft Partner Gold Independent Software Vender (ISV).
Affiliations:
ICEX, Microsoft, Cámara de Comercio de Gijón, FADE, Cluster TIC, APD, ASTUREX
People in this company (1)
---