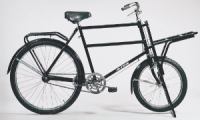 AITA BICICLETAS
Argentina
26 employees
Established in 1946
Company description
---
AITA es un tradicional fabricante de bicicletas y triciclos de excelente calidad, diseño innovador y bajo mantenimiento fundada por Ernesto Aita en 1946. La empresa está ubicada en la ciudad de Rosario, Provincia de Santa Fe, Argentina. Since 1946 AITA have been dedicated to building durable bicycles and tricycles that would carry heavy loads with minimal maintenance to meet the diverse and evolving needs of our customers.
Sector / Industry
---
Products and Services
Commercial information
---
Product and services:
Bicycles, tricycles, bike, cargo cycles, work bikes, delivery or utility bikes, bike sharing, Biciletas, tricilcos para repartidores, servicios de correo y delivery, recolectores de residuos y pequeñas mudanzas.
Main customers:
Delivery, courrier, commuter, kids, family,
People in this company (1)
---